From Business…
As a manager and supervisory board member with decades of experience in introducing new technology, I am eager to do things differently and in an innovative way – and am particularly interested in how the German and international economy can become more open, digital and inclusive.
…to Art.
With my gallery, I want to give impulses to our economy and society – through art that stimulates reflection and rethinking. I am neither a professional nor an experienced collector. I let myself be guided by what inspires me and entices me to pause.
New exhibition "Architektur – Figur – Landschaft": photographs and graphics by Rolf Reiner Maria Borchard
Rolf Reiner Maria Borchard once described his retirement in 2006 as the start of a second, completely free life. In recent years, he has dedicated himself to landscape and still photography, which he vividly documented in a total of nine illustrated books. In his photographs, the former professor at the Muthesis-Fachhochschule in Kiel concentrates on the structure of landscape elements such as houses, streets or trees – and, at the same time, pays attention to details and lines. The subject matter is often Kiel or its immediate surroundings.


Since early 2020, Borchard has devoted himself to another medium in addition to photography: digital graphics. In contrast to the artist's planned photographs, these are created spontaneously and can be adapted and changed again and again in the course of the creation process. The limitations of his chosen program "Pages", which was designed as a writing program, become part of the art and lead to two-dimensional results. The result are drawings that show a desire for freedom and lightness and thus form a counterpart to the structured nature of the photographs. Borchard himself says: "By combining the two media, I can present myself more fully – and show that every person has very different facets."


The vernissage for "Architektur – Figur – Landschaft " will take place on October 2, 3 and 4, starting at 6 pm. Due to coronavirus restrictions, we kindly ask you to register in advance via email to anmeldungen@simonemenne.de (please state the date you would like to visit).
Prelude Frequenz Festival – Visual Landscapes at Galerie Simone Menne
To make art tangible and create space for it is both a huge challenge and a highly topical issue during the current Corona crisis. I am all the more pleased to try out new forms of art presentation right now – this time in cooperation with the organizers of the Kiel festival "Frequenz – Musik Heute" as well as the city of Kiel and the Dänische Strasse.

The new event series "Visual Landscape – Public Spaces" will kick off on Friday, 25 September 2020 at 7 pm with an open-air event in and at the Simone Menne Gallery. Works by Robert Seidel, master student of Neo Rausch, the artist and composer Alexandra Hallen, the artist and lecturer Liu Chang from Shanghai, the Danish artist Rikke Benborg and the author and filmmaker Jan van Hasselt will be presented. The video screenings are displayed at the windows of my gallery, this way the entire exhibition can be experienced open-air. I am very curious to see the synergies of art and space that will be created.

The event is free of charge. You are all very welcome. If possible, please register here:
Registration Frequenz Festival
Special exhibition "The New Naked" with Sonja Brüggemann
Due to the coronavirus pandemic, we have experienced a real loss of public art and culture in recent months. With the "Maßnahme" project, artists want to counteract this decline in Kiel from 28.08. to 13.09. – and at the same time revive empty spaces. The Gallery Simone Menne is exhibiting portrait photos by Sonja Brüggemann at a location in Schwedendamm 9. The exhibition "The New Naked" deals with the ways our everyday life has changed since Covid-19. It shows a new kind of vulnerability that stems from us only being allowed to meet in public wearing masks. Taking the photos was a different experience than usual portrait projects: Normal signs of non-verbal communication, emotions and facial expressions were almost completely eliminated. The smile behind the mask is often invisible.

I have known Sonja Brüggemann for a long time, first through her industrial photographs, then through her artistic works. Looking at the faces of "The New Naked" touches me very much. As an outsider, the individuality of each person is revealed primarily through the choice of mask.

You can visit the special exhibition from August 28 to September 13 every Thursday to Sunday from 2 to 6 p.m.
Click here for more information, including on the other exhibitions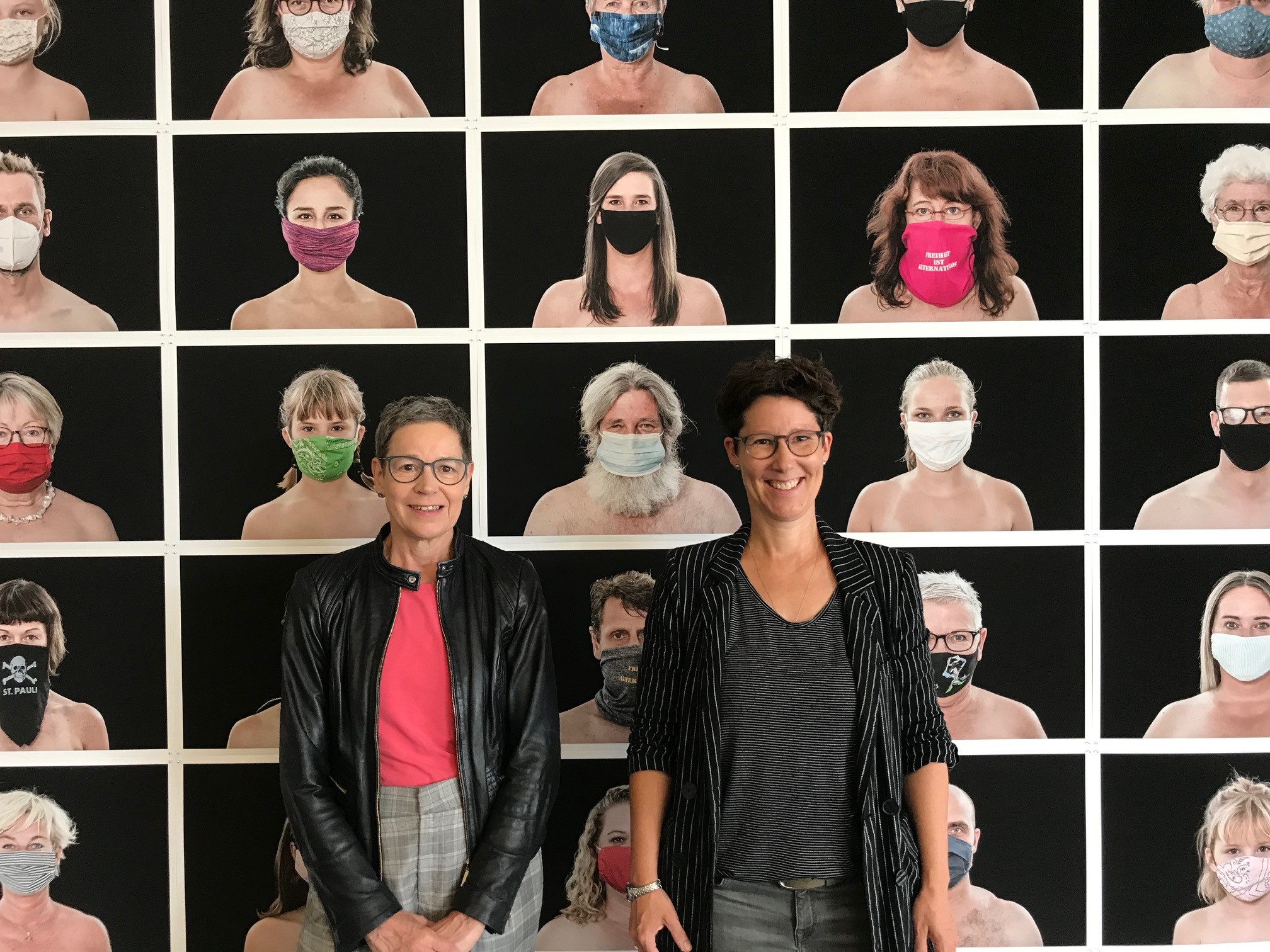 [:reboot] – Current Exhibition by Jörg Plickat and Rotraut Fischer-Plickat
I am delighted to host jewellery by Rotraut Fischer-Plickat and sculptures by Jörg Plickat as my gallery's current highlights. The material chosen by Jörg Plickat, steel, has played a decisive role in Kiel's history: It is reminiscent of shipbuilding and weaponry. The natural stone jewellery made by Rotraut Fischer-Plickat offers a delicate contrast to the massive sculptures, the stones used are also silent witnesses to the history of the earth.
You can find more information about the jewellery and the sculptures in our catalogue:
Catalogue
A restart for public art: Vernissage [: reboot] by Jörg Plickat and Rotraut Fischer-Plickat
Like most other parts of public life, the art business was on hold from mid-March to the end of May. This naturally also affected my gallery, which had to close from one day to the other. That is why I am happy and a little proud that the current exhibition [: reboot] by Jörg Plickat and Rotraut Fischer Plickat took off with a successful vernissage. Instead of celebrating the exhibition with a big party, we focused on personal conversations with the artists and a close exchange about the exhibited works. Art lovers were able to register in advance and visit the gallery in small groups from May 22nd to May 24th. The format was quite unusual, but I enjoyed having more time for individual visitors and their interests. I think it also fits very well into a time when we value each individual encounter more than ever before.

Visitors can still visit [: reboot] until the end of August by appointment. The exhibition plays with seeming contrasts and materials: Plickat's large and small sculptures in bronze, stone and iron are complemented by landscape and nude paintings. Plickat painted the latter using Chinese ink during his time as visiting professor at the art academy in Hangzhou, China. The jewellery pieces by Rotraut Fischer-Plickat, on the other hand, appear quite filigree. However, they demonstrate their earthiness and solidity, if you will, through the use of unworked flint and lava stones. If you would like to experience more of Plickat's art, you can do so by taking a walk along the sculpture path "Line – Volume – Space" on the grounds of Kiel University of Applied Sciences. The contrast between the pieces exhibited in my gallery and the massive, dominant large sculptures of the sculpture path encourages a change of perspective and offers a moment of respite.
How to find us
The gallery Simone Menne is located in the Alte Feuerwache Kiel, in the middle of the city centre. The easiest way to reach us is by public transport, e.g. bus line 11 from Kiel main station. If you come by car, you can use one of the surrounding car parks (Parkhaus Jensendamm, Parkhaus Schlossgarage). Opening hours: Every Saturday, 10am – 2pm
Galerie Simone Menne, Alte Feuerwache 13 , 24103 Kiel