From Business…
As a manager and supervisory board member with decades of experience in introducing new technology, I am eager to do things differently and in an innovative way – and am particularly interested in how the German and international economy can become more open, digital and inclusive.
…to Art.
With my gallery, I want to give impulses to our economy and society – through art that stimulates reflection and rethinking. I am neither a professional nor an experienced collector. I let myself be guided by what inspires me and entices me to pause.
"The ability to accept multiple meanings is often lost to us"
Opening of "Sequenz" at Holstenstrasse 2-12, Kiel.
On February 9, 2020, we opened the exhibition "Sequenz" by artist Nanja Heid in a former shoe shop in Kiel. My actual gallery simply did not have enough space for the exhibition of 365 artworks. The artist captured sounds from outside in 365 paintings. For this purpose, she listened closely for one hour every day for a whole year. Afterwards, Nanja Heid drew and sewed the pieces which are now exhibited. The result is an impressive view on daily life.

Nanja Heid's works are a great example for what I find so fascinating about art and why I believe that we – as society, but also as economy – can learn from artists: Nanja Heid creates artworks which have more than a single meaning and thus open our eyes. "The ability to perceive multiple meanings is often lost to us", says the author Thomas Bauer in his book "Die Vereindeutigung der Welt" . The group `Klangrauschen´ also explored the theme of ambiguity in their musical interpretation of the artwork during the vernissage. Klangrauschen, on this evening consisting of Ninon Gloger, Elizabeth Farrell and Marie Yamanaka, converted the paintings of sounds into actual sound again. The musicians moved freely in the room and filled it with magical sounds. In addition to conventional instruments, such as violin and flute, the group also used balloons to create their music.
Download catalogue
Our current exhibition
zwischenhinein

by Nanja Heid

Starting 17th January 2020: How do different materials interact? What effects do they have on us? Nanja Heid explores these questions in her exhibition "in between", opening on January 17 in my gallery. The artist is exploring the effect that combining different fabrics has on both the material and on the viewer. Among other things, visitors can experience drawings made with a sewing machine on paper. The other exhibits, a "sounding floor" and "silent stones", also pursue Nanja Heid's concept. The sounding floor is made of hollow stones into which the artist has incorporated fabrics. A pendulum swings over the stones and causes them to resonate with different sounds. Due to the unevenness of the surface, the melody produced is never the same, the pendulum swings in unpredictable directions and creates an ever-changing symphony. Art lovers are welcome to attend the special opening on 17 January 2020 from 6.30 pm and the special exhibition "Sequenz" with an opening concert on 9 February starting at 2 pm.

Download price listDownload catalogue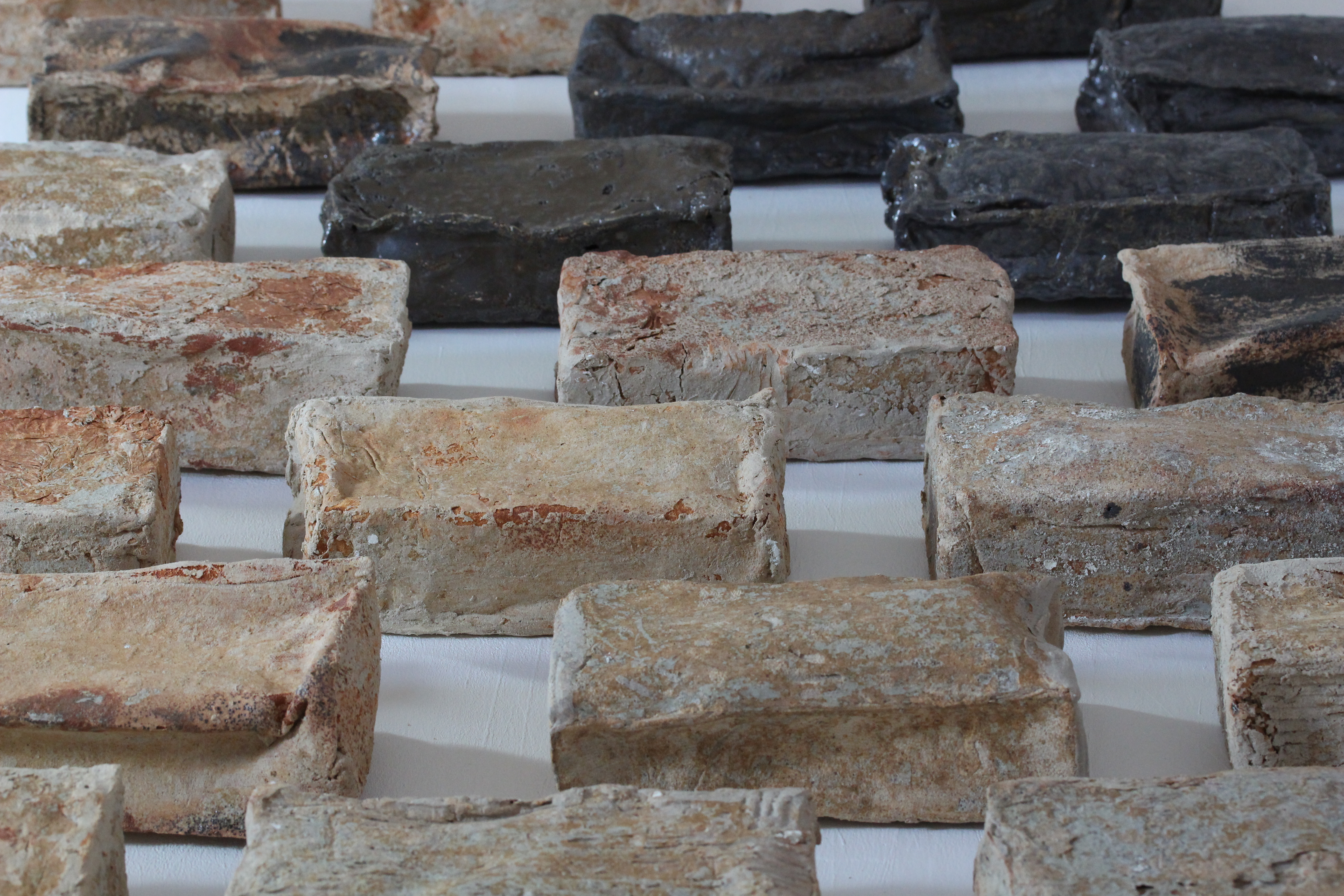 Impressions from the exhibition opening
The second exhibition at my art gallery is off to a great start with a successful vernissage! On Friday, January 17, about 50 interested visitors stopped by for a first look at the pieces by Nanja Heid. The exhibition "Zwischenhinein" appealed to artists, art students, neighbours and gallerists alike. Overall, there was a really good atmosphere and I am looking forward to the next months with this exhibition. You missed the opening? You can visit my gallery every Saturday from 10 am to 2 pm. Stop by!
How to find us
The gallery Simone Menne is located in the Alte Feuerwache Kiel, in the middle of the city centre. The easiest way to reach us is by public transport, e.g. bus line 11 from Kiel main station. If you come by car, you can use one of the surrounding car parks (Parkhaus Jensendamm, Parkhaus Schlossgarage). Opening hours: Every Saturday, 10am – 2pm
Galerie Simone Menne, Alte Feuerwache 13 , 24103 Kiel